1963-1991 JEEP WAGONEER (SJ)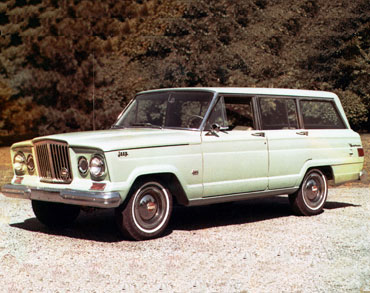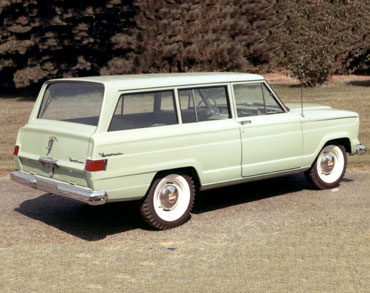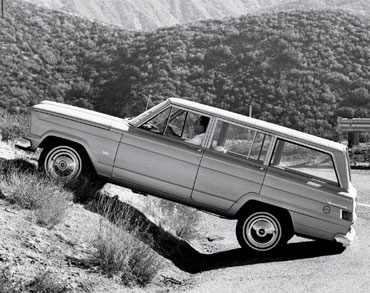 In 1962, the Jeep® brand introduced the Wagoneer as a 1963 model — the father of all luxury 4×4 SUV's. Replacing the Willys utility wagon lines, the Wagoneer was designed to provide passenger-car styling, comfort, and convenience with the advantages of four-wheel drive (4X4).
The revolutionary Wagoneer was filled with innovation and industry firsts: the first automatic transmission in a 4X4 vehicle; the first overhead-cam six-cylinder truck engine, the first 4X4 vehicle with an independent front suspension; the first automatic full-time 4X4 system. The revolutionary Quadra-Trac® 4X4 system, introduced in 1973, was available in full-size Jeep trucks and wagons, and later in the CJ-7.
Styled by the famed industrial designer Brooks Steven, the Wagoneer captured the public imagination with its modern styling and good looks. The entire line of "Senior" (SJ) vehicles included the Gladiator and J-Series Trucks, Wagoneer Station Wagons, Panel Deliveries, and early Cherokee models.
The SJ line was in production for more than 28 years with only minor technical changes and when production ended – was the longest continuous automotive production run, on the same platform, in U.S. automotive history.
The Wagoneer was renamed the Grand Wagoneer in 1984 to coincide with the introduction of the downsized Wagoneer and Cherokee (XJ) models.
1963-1987 JEEP GLADIATOR / J-SERIES TRUCK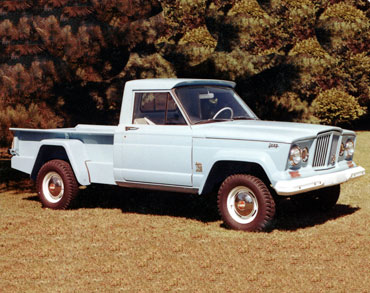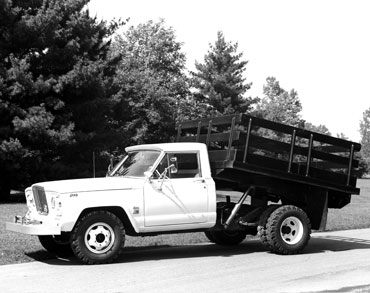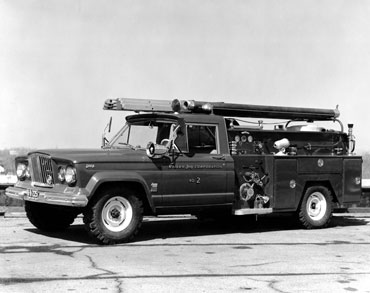 In 1962 a completely new "J" line of Jeep® Gladiator trucks were introduced for the 1963 model year. The Gladiator full-size pickup trucks shared the same platform, front-end styling, and powertrain as the Wagoneer.
The Gladiator was available in either 120-inch (J-200) or 126-inch (J-300) form, and featuring a Dana 20 transfer case and Dana 44s front and rear. A tougher independent front suspension was available on half-ton trucks until 1965 but used a beefier 44IFS front differential.
Available configurations included: Thriftside (narrow box), Townside (wide box), Chassis or Cab; Stake Bed; Wrecker; and Chassis-mounted campers with extended wheelbases.
In late 1965, the J-200 and J-300 Gladiators became known as the J-2000 and J-3000 respectively. The Gladiator name was dropped in 1971, after which the pickup line was know as the J-Series through 1987.
In 2005, a new Gladiator concept vehicle was introduced as a prototype for the possible direction the Jeep brand might take in the near future.
1967-1971 JEEPSTER CONVERTIBLE (C-101)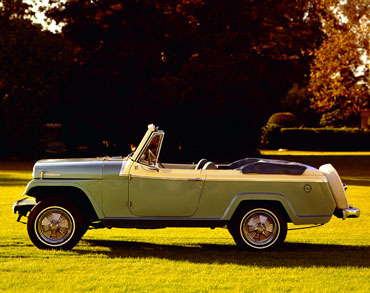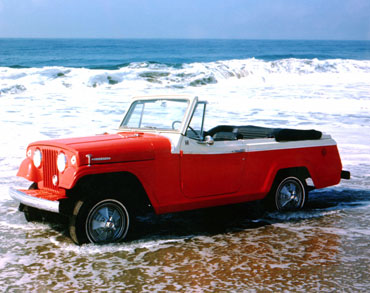 The Jeepster Convertible (C-101) was built on a CJ-6 chassis with four body options — roadster, station wagon, pickup, and power-top convertible.
Launched with a youthful ad campaign promising seaside fun, the Commando was the first compact 4×4 vehicle with automatic transmission and sported an interior "designed to handle the elements and impress the ladies on the beach".
Hearkening to the 1950s Jeepster, the 1967 convertible "classic" Jeepster look-a-like (model 8701) featured two-tone paint, fold-down top, and Continental Kit. A manually operated top came standard on the convertible, with an electro-hyraulic push-button as optional equipment. A Plain Jane, or "austere" model (8702) was available from 1968-1971.
1967-1973 JEEPSTER COMMANDO (C-101)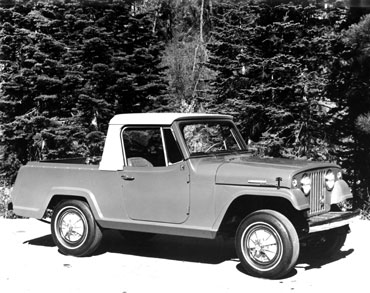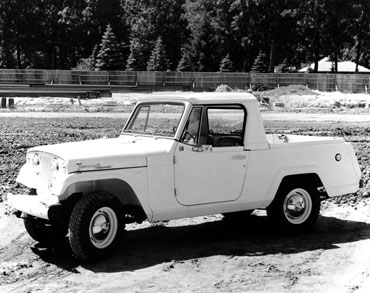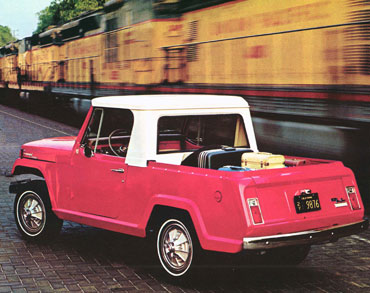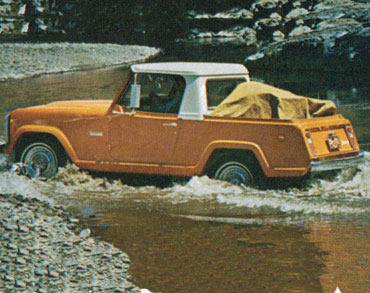 The Jeepster Commando (C-101) was built on a CJ-6 chassis with four body options – Soft Top roadster, station wagon, power-top convertible, and pickup (model 8705H for half-metal cab and 87050 for no top).
Long a favorite among the Jeep® brand faithful, early versions of the 101-inch wheelbase Commando came with many desirable available components, including the all-new 160 hp "Dauntless" V6 engine, optional console-mounted TH400 transmission, and full floating Dana 27 front and 44 rear axles.
Cargo area in 1970 was 63-inches long, the spare tire was mounted to allow full use of the cargo area while still giving an unobstructed view through the full-width rear window.
Front suspension included multi-leaf springs with a stabilizer bar, rear suspension was asymmetrical single leaf springs with the axle mounted 5-inches ahead of the axle center. Car and Track magazine stated, "This suspension setup gave the best ride of any Jeep (vehicle) we've ever ridden". "The Commando is smoother and more comfortable than any other 4X4 vehicle we've tested to date."
The Commando pickup was a hard working model that appealed to commercial industry.
1960 CJ-5A/CJ-6A TUXEDO PARK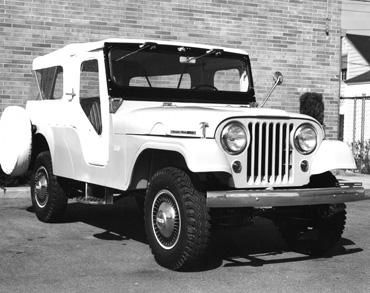 The Jeep® CJ-5A/CJ-6A Tuxedo Park Mark IV was a luxury special edition vehicle produced from 1964-1967. The Tuxedo Park model was available on the CJ-5A and CJ-6A. It included a chrome front bumper, hood badges, windshield hinges, tail lamps, hubcaps with "Jeep" emblem, and column shift, four-wheel drive and a 160 horsepower V-6 engine option. Jeep CJ-5A Tuxedo Park's were used in Lyndon B. Johnson's inaugural presidential parade in 1965. 1964 Jeep CJ-6A Tuxedo Park Mark IV shown.
1960 J-3000 TRUCK SJ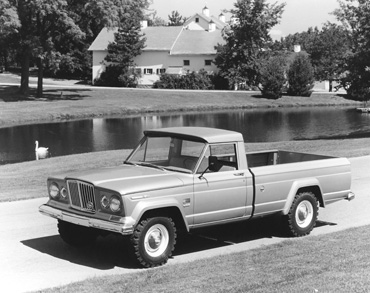 In 1962 a completely new J-line of Jeep® Gladiator trucks was revealed. These trucks were completely redesigned in every respect and were a sharp contrast to the trucks that were introduced after WWII and virtually unchanged for 14 years. 1969 Jeep Gladiator J3000 shown.
1960 Jeepster Commando Station Wagon C-101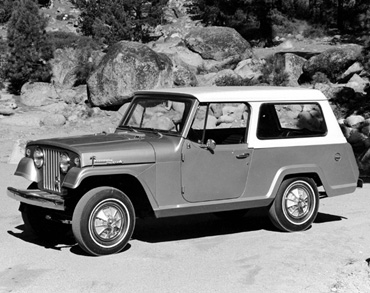 The Jeepster Commando (C-101) was available in open body, Soft Top, half cab or full enclosure. One of the rarest Jeep® vehicles was the '71 Commando Hurst Special. It featured a dual-gate Hurst shifter, ABS hoodscoop, 8,000 rpm racing tach, and blue and red rallye stripes. Fewer than 100 were produced. 1965 Jeepster Commando shown.
Tags:
1960 jeep
jeep gladiator
1960s jeep
jeepster convertible
1960s wagoneer
1965 jeepster convertible
jeeps built in the 1960\s