1940 WILLYS QUAD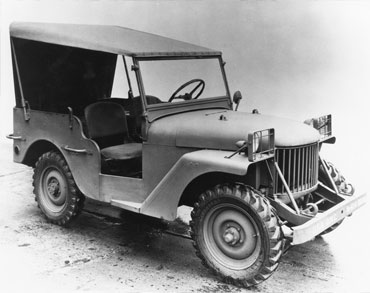 In June 1940, with World War II on the horizon, the U.S. Army solicited bids from 135 automakers for a 1/4 ton "light reconnaissance vehicle" tailored to Army specifications. Only three companies responded – Bantam, Willys, and Ford – but, within a year's time they collectively produced the template for the vehicle known worldwide as the "jeep".
Willys-Overland delivered the prototype "Quad" (named for the 4X4 system it featured), to the U.S. Army on Armistice Day (Veteran's Day), November of 1940. The design was completed in a remarkable 75 days.
Only two prototypes were made.
1941 WILLYS MA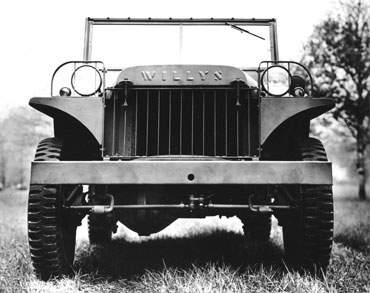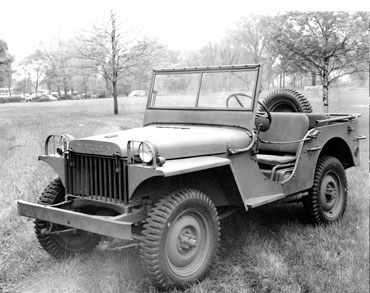 The Willys MA featured a gearshift on the steering column, low side body cutouts, two circular instrument clusters on the dashboard, and a hand brake on the left side. Willys struggled to reduce the weight to the new Army specification of 2,160 lbs. Items removed in order for the MA to reach that goal were reinstalled on the next-generation MB resulting in a final weight of approximately just 400 lbs. above the specifications.
After arduous testing, Willys-Overland was awarded the contract in July of 1941 calling for the production of 16,000 revised MB models at a unit price of $738.74. Most of the MA's were sent to the United States Allies in Russia and England under the Lend-Lease program. Today, the MA is the rarest of all pre-production Willys, with only about thirty models known to exist.
1941-1945 WILLYS MB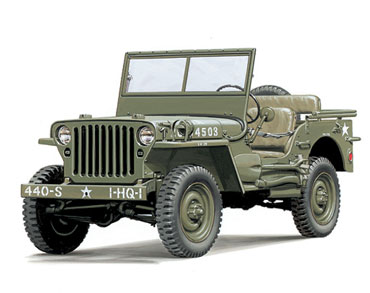 It's the stuff of legend; the U.S. Army requested a vehicle – and drove off in a hero. The Willys MB, its spirit forged by the fire of combat and honed in the heat of battle, seared its way into the hearts of warriors fighting for freedom.
Fierce emotional bonds often developed between a soldier and his "jeep" 4×4. The faithful MB earned a place in every GI's heart, in every area of combat, in every conceivable role.
The tough, simple, Jeep® 4×4 became the GI's best friend – second only to his rifle. One MB was even awarded a Purple Heart and sent home.
The MB started a revolution in the use of small military motor vehicles in the U.S. Army. Horses along with motorcycles, solo and side car, were rendered obsolete almost immediately.
The all-purpose MB was amazingly versatile. They could be fitted with .30 or .50 caliber machine guns for combat. They were also widely modified for long range desert patrol, snow plowing, telephone cable laying, saw milling, as fire fighting pumpers, field ambulances, tractors and, with suitable wheels, would even run on railway tracks.
MB's could be loaded into transport aircraft for rapid deployment and were also small enough to fit into the large gliders used in the D-day invasion of Europe.
Over the course of the war, customized field kits were developed for winter and desert conditions, deep-water fording, and other combat needs.
General George C. Marshall, US Army Chief of Staff during World War II, and later U.S. Secretary of State, described the Jeep 4×4 as "America's greatest contribution to modern warfare". General Dwight D. Eisenhower confidently stated, "America could not have won World War II without it."
Scripps Howard WWII Reporter Ernie Pyle once said, "It did everything. It went everywhere. Was a faithful as a dog, as strong as a mule, and as agile as a goat. It constantly carried twice what it was designed for and still kept going."
Although the Willys MB was not the first four-wheel-drive vehicle, the go-anywhere, do-anything Jeep vehicle influenced every 4×4 built in its wake.
The New York Museum of Modern Art includes a 1941 Willys MB in its display of nine automobiles regarded as "works of art."

The mighty Willys MB emerged out of the cauldron of war ready for peace-time service. The legendary G.I. workhorse of World War II was converted by Willys-Overland into a CJ with the aim of putting farm workhorses out to pasture.
According to Willys-Overland, there were 5.5 million farmers in the U.S., and of these, more than 4 million had neither a truck or a tractor. The rugged and versatile CJ-2A was marketed by Willys-Overland as "The All-Around Farm Work-Horse". It could do the job of two heavy draft horses, operating at a speed of four miles per hour, 10 hours a day, without overheating the engine. The CJ-2A "Universal" was to serve agriculture and industry all over the world in a thousand different ways.
Willys-Overland also advertised the CJ-2A as "A Powerhouse on Wheels", pitching it as a work vehicle and mobile power to the masses. A variety of farm implements and industrial tools were devised for use in conjunction with an onboard power take-off unit. A belt-driven governor was controlled from the instrument panel, allowing regulation of engine speeds from 1,000 to 2,600 rpm. Sales were brisk despite the glut of MBs on the war surplus market.
Cash awards were offered by Popular Science magazine for "Ideas on Peacetime Jobs for Jeeps". The contest stimulated America's ingenuity and innovative nature. Soon, Jeep® vehicles were used as the platform for hundreds of applications. Of particular note: from 1949-1964, either a complete Jeep vehicle or chassis was used on all Zamboni® ice resurfacing machines. In 1949, the Model A took 10 minutes to do a job that used to take over an hour-and-a-half.
A much modified version of the MB, the 1945 CJ-2A (MSRP: $1,090) had "Willys" embossed on the hood sides and windshield frame. It was offered to the public with better shock absorbers, springs and more comfortable seats for added comfort, revised transmission and transfer case gear ratios allowing low-speed hauling and highway speeds as high as 60 mph, beefier clutch, better cooling, a tailgate, side-mounted spare tire, larger 7-inch headlights, an external fuel cap, a reinforced frame for greater rigidity, and an automatic windshield wiper on the driver's side.
CJ-1 and CJ-2's (1944-1945) were pre-production models notable for their cast-bronze "AGRIJEEP" hood emblems–used at agricultural test stations around the country.
1946-1965 WILLYS WAGON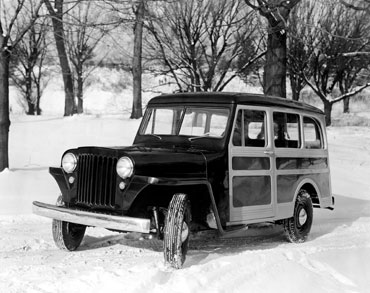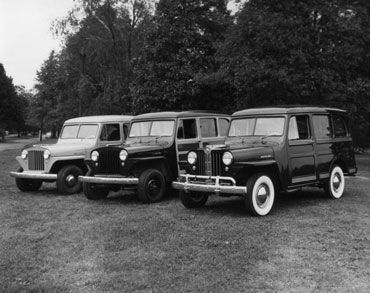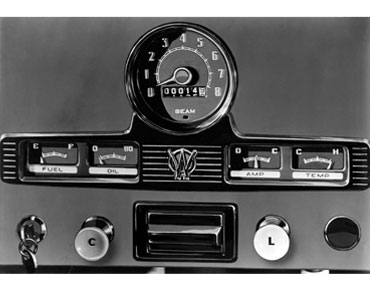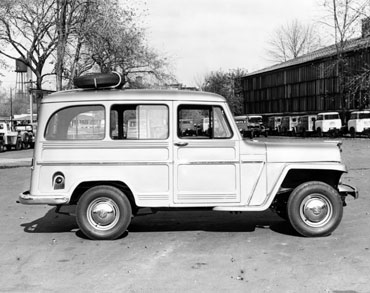 America's first all-steel station wagon debuted in July 1946 as the model 463 Jeep® Station Wagon and featured a three-tone paintwork that simulated the "woodie" look. The no-maintenance all-steel utility vehicle was not prone to weathering, peeling or squeaks like the old style "woodies".
The Wagon's fold-down tailgate hatch was ahead of its time and can be credited with the origin of the "tailgate party".
Most station wagons of the day could carry 4 x 8 feet sheets of plywood horizontally – but only Willys could store them vertically as well. A wash-out interior could be "cleaned almost as easily as a kitchen sink! " Consumer Reports October 1950 issue stated, "The Willys Station Wagon, used as it is intended to be used, has no equal in its field … It is a working car and it does its work well."
The Willys Wagon was also available in commercial delivery formats — Sedan Delivery, Panel Delivery, or Utility Delivery — with enclosed back sides and vertical rear doors.
When four-wheel drive was added in 1949, the Willys Wagon became the forerunner of the Grand Cherokee (WK). The Brooks Stevens designed Wagon was in production nearly 20 years — longer than any other contemporary American automobile of its day.
1947-1965 WILLYS-OVERLAND TRUCK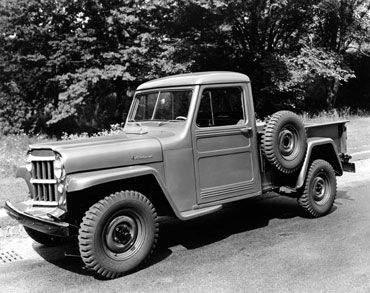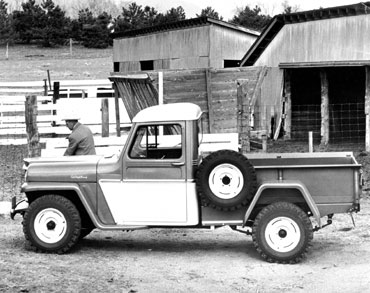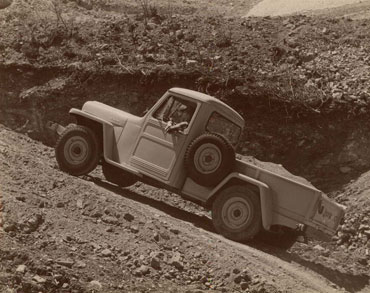 An early advertisement promoted "The new 'Jeep' Trucks are the biggest news in the medium-duty field." Two and four-wheel-drive models were originally marketed to the modern farmer. The 118-inch-wheelbase pickup truck marked Willys-Overland's first attempt to diversify the Jeep® brand beyond the short-wheelbase flat fender.
With two- and four-wheel drive models available, the Jeep Truck could be fitted with a pickup or stake bed, chassis or cab, or as a bare chassis. Late-'40s pickups were available with four-wheel drive — a feature not available on Chevy or Ford trucks until 1957 and 1959 respectfully.
Many of the Jeep Truck components were shared with the Willys Wagon, in particular the Go Devil engine, the 72 hp "Super Hurricane" L-head six found on earlier models and the "Tornado" engine that found its way into later versions.
The Jeep Truck was produced with minor sheet-metal changes until the Gladiator pickups replaced them in the '60s.
1948-1951 JEEP JEEPSTER (VJ)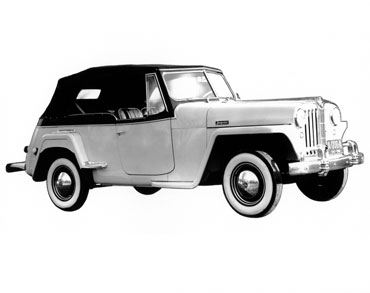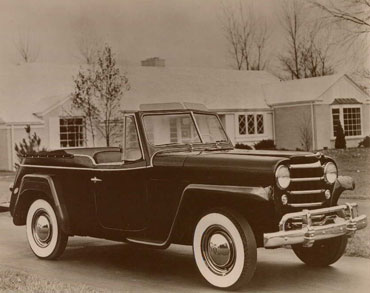 The Jeepster (VJ) was the last phaeton-style open-bodied vehicle made by a U.S. automaker, using side curtains for weather protection instead of roll-down windows.
Brooks Stevens, the famous Willys-Overland designer, had intended the Jeepster to be a low-priced American sports car. Eventually it price out at around $1,900, which was at the time fabulously expensive.
Marketed as a sports car, the performance was somewhat lacking – hence the lower sales numbers.
The Jeepster, unlike the CJ-2A, was promoted as a vehicle suitable for women drivers and college grads. Many suburban drivers used the Jeepster as a "sunshine" only, or secondary car. Originally offered with the "Go-Devil" engine, it was eventually fitted with the 161 cubic-inch six-cylinder "Hurricane" engine, but never offered in four-wheel drive.
Of late, the Jeepster has become a certified collectible and has been deemed a Milestone car.
In 1971, British glam-rock group T. Rex paid tribute to the Jeepster in a song of the same name, singing "Girl, I'm just a Jeepster for your love" on their hit album Electric Warrior.
1949-1953 JEEP CJ-3A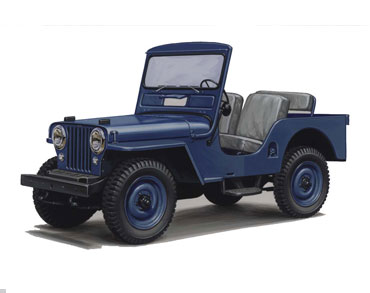 The CJ-3A is considered by many to be the father of recreation vehicles. Introduced in late 1948, the CJ-3A was very similar to the previous model, but featured refinements over the CJ-2A including; a one-piece windshield with bottom vent and dual bottom-mounted wipers, a more robust transmission, transfer case, and beefier Spicer 44-2 rear axle.
The engines were visually identical to the 2-series, "Go-Devil," but featured revised piston and valve-tappet clearances, as well as a different flywheel. Front passenger leg and knee room were improved (rear passengers lost some room).
A farm version was offered from 1951-1953 and featured the options most farmers asked for, including a hydraulic lift, engine governor, drawbar, driveshaft guards and heavy-duty springs. A rear Power Take-Off and front bumper weights were optional.
The Jeep Tractor was a stripped down version of the CJ-3A. It was bare bones to the point of having only one seat, no lights, front shocks, horn, tailgate or windshield. The Jeep Tractor featured a hydraulic 3-point lift and drawbar – and plenty of guts!
The CJ-3A could be easily differentiated from the CJ-2A by its one-piece windshield.
Source: Jeep Official Site
Tags:
willys wagon
1940s jeep
willys mb
jeep 1940
jeep 1940s
1940 jeep
jeep willys mb
1940s
jeeps in the 1940s
1953 JEEP